Company Profile of Dr. Asma Herbals is an ISO 9001:2015 and G.M.P. certified House Established under the dynamic vision of Vaid Parduman Singh Ji (Since 1972) and the leadership of S. Chanpreet Singh Chawla who is science Graduate and pharmacist and, his son, Prabhdeep singh Chawla who is also a medical graduate with an MBA from Paris, France. Our strength lies in having a well qualified, experienced and dedicated visionaries and team. We also offer 3rd Party Contract Manufacturing orders.
To achieve highest end-consumer satisfaction by providing quality ayurvedic medicines and products at affordable prices.
To provide new solutions for the age-old and new disorders and diseases by comprehensive R & D work.
To remain up to date with the latest knowledge and technology in the Ayurvedic industry.
Vision

Partner with us

Accreditations
Our Vision:
Our Values:
Our Core Objectives
Dr. Asma Herbals intends to partner  with marketing & distribution companies to expand our business all over India and international franchises into new markets.
Why become Dr. Asma Herbal's distributor/ dealer?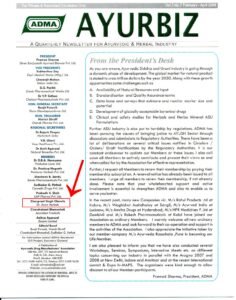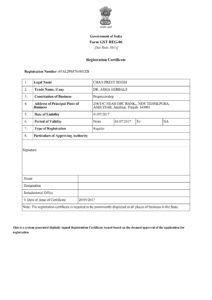 We manufacture the Ayurvedic products in 2000 Sq. Yd area with proper & sanitized sections:
Raw Material Section: This section has all raw materials stored to produce ayurvedic medicines. When the raw materials are procured, we process them to eliminate the foreign particles present in them. Then we store them in a cool and dry place for use in the future.
Laboratory Section: In this section, we have all the lab equipment to check the quality control and analytical chemistry of drugs. Refractometer, Muffle furnace, Hot air oven, Refrigerator, LPG Gas cylinder with burners, Water bath, TLC apparatus with all accessories, pH meter, Silica crucible, Camera Lucida Prism type and mirror type, Microscope, Soxhlet apparatus, Hot plates, Laboratory glasswares viz. beakers, flasks, funnel, test tubes, measuring cylinders etc. Laboratory reagents, chemicals and solutions like Hydrochloric acid, Nitric Acid, Benzoic acid, Toluene, Sodium Hydroxide pellets, Silica gel, Sodium Benzoate, Hydrogen peroxide, Ethyl Acetate, Anisaldehyde (extra pure), Chloroform, Methanol, N-Hexane, 2-Phenyl Ethanol, Benzalkonium Chloride, Aniline Hydrochloride, Carbolic Acid, Sulphuric Acid, Ethanol, Potassium Chloride, sodium citrate, Disodium tetraborate (borax powder), Propylene Glycol, sodium gluconate, Potassium Metabisulphite.
 List of tests being conducted:
pH
specific gravity
Loss on drying
Ash value
Acid insoluble ash/Water-soluble ash
TLC
Ayurvedic Sections at our Factory:
Pulverizer Section:

In this section, we grind the herbs in very fine particles (1000 kg in a day). To have the maximum surface area of herbs, to have maximum absorption rate. The more the absorption rate of the drug, the more will be the more efficacy.

Dryer Section: We have Fluid Hot Air Dryer (150 kilograms in 8-hour shift) & Hotbed Air Dryer (150 kg in 8-hour shift) which are used to dry and decontaminate the powder with hot air. which are then used to either fill in Capsules or to make syrups.
Capsule section: We also have Automatic Capsule Filling Machine which produces 1,00,000 capsules per 8-hour shift. Our Cone mixture machine helps in mixing fine powders before filling into Capsule Filling Machine. This helps in fine the quality of Capsule. We prepare the formulation into very fine powder. Which is a very tedious task for herbs to grind into very fine powder. The more the fine powder, the more the surface area which gives a higher absorption rate. This helps in providing a higher efficacy rate for our ayurvedic capsules. Thus, resulting in faster relief.
Blister Packing Section: we have a fully automatic blister packing machine (10,000 strips in an 8-hour shift) to accommodate a single zero capsule and double zero capsules to fill ayurvedic formulation.
Syrup & Juice Section: We have the tendency to manufacture 2000 bottles in a day.  Such as Ayurvedic Syrups like Blood purifiers, Liver care, Digestion, female problems etc.
Ointment Section: We have automatic ointment cream filling machine to fill 1500 tubes in a day.
Cream section:  We also have a Double jacketed Planetary mixer to manufacture 1200 cream packs in a day.
Oil & Spray Section: We have the tendency to produce 1000 kilograms of Ayurvedic Oils and Herbal Sprays.
Tablet Section: We can manufacture 1,00,000 Tablets in a day such as Giloy Ghan Vati tablets, Lahu safa blood purifier Tablets and classical ayurvedic medicines.
Powder Section: If you wish to manufacture Ayurvedic Powders. We can provide you 200 kg batch in a day.
Amla Candy section: 400 kg
Eye drop Section: We can manufacture 150 kilo of Eye drops in Double distillation plant.
Bhatti Section: We can produce 600 kilo of Syrups in 3 Bhattis we have in our Bhatti section.
Batch Coding section: We can punch M.R.P., Expiry date, manufacturing date to 12,000 labels per day. 
Automatic Labelling Machine: We also have this machine to put labels on Capsules container bottles automatically. Which provides faster and efficient means of labelling provision.
Numbers Speak For Themselves!
Is Dr. Asma Herbals similar to other Ayurvedic companies?
Dr. Asma Herbals is Amritsar-based registered and regulated Ayurvedic manufacturer which adheres to Good Manufacturing practices (G.M.P certified). We, at Dr. Asma Herbals, like to think ourselves as a more progressive company, focusing on people's health and developing better medications to meet their needs.
Where can I buy these medicines?
All our products are available on Amazon, Snapdeal, flipkart as well as on our website. Also, these products are also available on all medical stores in whole North India. All our products are stocked by most honorables pharmacies but remember, because of the unique and proprietary formulations of these medications, there is no substitute. Ask for our products by name!
What are the different production sections of Dr. Asma Herbals?
https://asmaherbals.co.in/gallery/
We are here to help!
Our friendly team of Dr. Asma Herbals are at ready to answer any questions you might have about our ayurvedic medicines. They're also some of the nicest people we've ever met. If you need a little help, just call them using the details below.